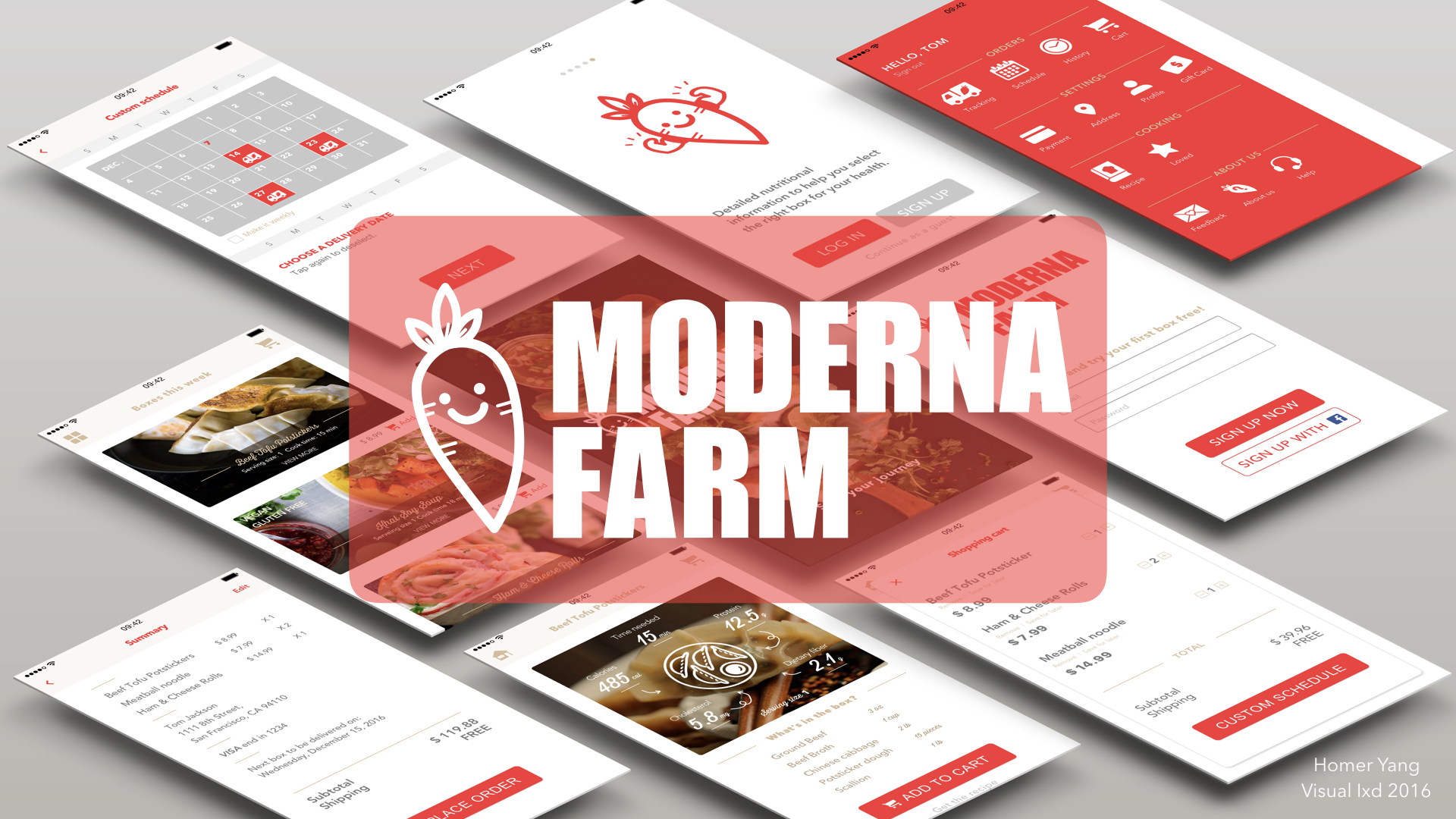 Project type: UI Design, branding
Brief: This project was to create a deliverable visual system for a mock brand.
Process: Process tarting from analyzing the brand and its competitor, follow with developing the brand mood and personality, creating the brand logo and style tile, and building multiple delivering visual touchpoints to creating an applied Brand System.
Time period: 5 weeks
Skills: Brand analysis, UI Design
Moderna Farm
Moderna farms is a community supported agriculture (CSA) and farm collective that creates unique and healthy farm cooking boxes delivered to your door, office or centralized pick up spot. Moderna farms is unique as it provides quick-cooking ingredients , saving cooking time for users with limited time and experience.
Every cooking box comes outwith an estimated cook time and detailed nutritional information. So people who are really busy can also cook without pressure, even during a busy work week.
The Process
Visual research / competitive analysis
Food delivery is becoming much more popular now, and there are a lot of competitors. I created visual competitive analysis boards for 3 competitors. This includes their color palette, font choices, photography, iconography used, screenshots from their applications and their logo.
Mood Board / Brand Personality
I Filled out the Brand Personality worksheet for Moderna Farm -In this part, I was trying to explore what I want the user's experience to be like, how Moderna Farm would act, what it would say if it was a person.
Logo Design
Logo Brainstorm: I draw 100 logo thumbnails to explore the posibility of Moderna Farm logo
Digital draft of logos: I choose 10 thumbnails from the 100 logos above and made the ditital version of them.
Logo Refine: I choosed my favorite one among the 10 digital logos above and tried to make different versions of it. However, it didn't go well.
Logo Refine continued : Because I was not satisfied with the versions I had before, I went back to thumbnails couple of times and developed a new direction.
Final Logo: This is the final logo of Modern Farm, and also the final icon for its application.
3 Style tiles
These style stiles were made at the same time of logo exploring. I finally choose the "style tile 1" with the red and gold color. The reason why I choose this unnormal color for a food brand is, there are such a habit to use some color like green in a food brand, and I want to see if these colors could finally works for a food branding.I think it is a good chance to experience designing something without using the "habit" color. ( Click on the previous and next botton to see all 3 style tiles)
Mobile Application
Sketches: mobile application.
Refined sketches: mobile application.
Final sketches and wireframe: mobile application.
Mobile App refine
The mobile application went through a lot of version until it went to its final. You can click on the next or previous control to go through it.
Here are some example of the screen transition.
Package
Sketches and ideas: Pacakge
Package exploration and small mock-ups.
Final package digital mock ups.
Website
Sketches and ideals
Refine process for the website.